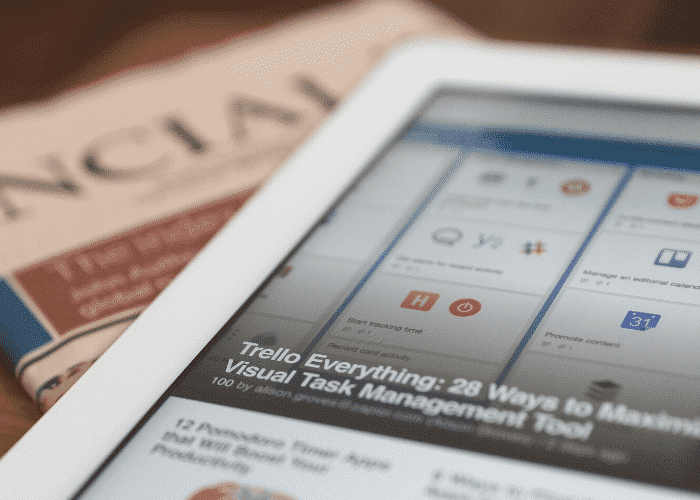 As the saying goes, 'there is nothing free in this world'. And yet, we're used to having things for free. With the age of the internet, anything online has become so accessible, that free is the new normal. Want to find a recipe for chocolate mousse? Get it for free. Want to find out the capital of East Timor? Get it for free. Want to know when the new Avengers film is playing in town? Get it for free.
As consumers, we don't often think about this stuff. We don't think what the value is of something that we get for free. What the secret 'payment' is that we make in return for watching a YouTube how-to. But on the other side of the equation, the companies who offer a free product think about whether and why they should offer something for free. And generally, it's not because they want to simply jump on the 'let's offer free stuff' bandwagon.
So in this article, we discuss the 7 reasons companies generally use to offer their product or service for free, plus a couple of questions you need to ask yourself as a company founder if you want to go this route. Together, it's all you need to know to decide whether you want to offer something for free.
7 Reasons to Offer a Product or Service for Free
Some companies offer something for free out of a specific purpose. For organizations like Wikipedia the goal is simply to make as much information as possible freely available. This is the same for other open-source communities.
But most for-profit companies do not have such a grander goal in mind. At the minimum, there are 7 reasons to sell your products freely. For example, you may want to market another project; acquire customer feedback or data; boost your brand; or simply get more paying users. Let's discuss these one by one.
1. The Industry Standard: Going Freemium
The most popular way of offering something for free is the 'Freemium' business model. With Freemium, companies offer a small part of their offering for free, while while users will have to pay for an (often very useful) upgrade.
Freemium is particularly well-known in mobile apps, where you get a simple version of the app for free. After paying for the app, the user unlocks a version without ads or with additional functions. But freemium is much more pervasive than just mobile games. Consider Spotify, that allows free (non-premium) users to play music as long as they keep listening to advertisements.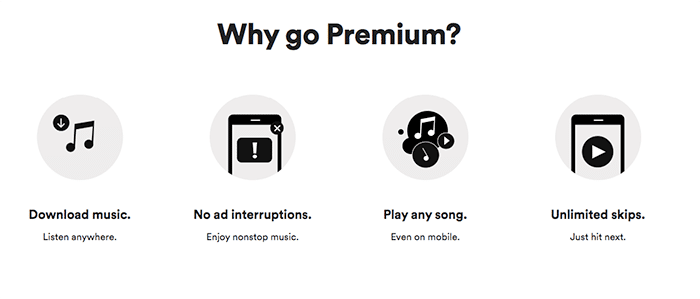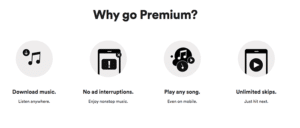 Reasons to go Premium at Spotify
The idea of Freemium then, is to get free users of your product. Over time, the goal is to convert a percentage of those users into paying users of the same product. Freemium works because because you lower the barrier for first-time users. In terms of payment, there is no such barrier. Because you remove this barrier, you gain a large potential customer base. You are direct into contact with this customer base, and you could convert these into paying users down the line.
Supposing you have some basic marketing set up and you get a new influx of free users every day. In this case, your focus can shift from marketing your product to people unknown with it, to marketing your product to free users and trying to convert these.
Interestingly, the benefit of freemium doesn't only come from converting free users. Although that may be your main source of revenue, free users can also refer others. According to Harvard Business Review, a free user generally is worth 15-25% of a premium subscriber. A part of that worth comes from referring other people to the product. In this sense, even catering to free users will be beneficial for your bottom line in the long-run.
2. Trial Users — Offering Your Product For Free Temporarily
Freemium can also mean temporarily free. Many software products provide a free version of their product for a specific amount of time. After this time runs out, you have to pay. Netflix is a good example, which used to offer a month-long free trial.
It's like giving out a sample of your product. Users can 'taste' it, and then decide to buy or stop using the service altogether. Compared to freemium, putting a time restriction on free use has several benefits.
First, you don't have to maintain two separate versions of the product. You simply do your best to offer the best product as possible; you do not need a toned-down version of the main product — or one in which ads are served.
Second, because you only have one product, trial users know exactly what to expect. They will not be as demanding as freemium users. Freemium users may feel entitled to certain new functionalities or support when something goes wrong. This is the reason that companies like MailChimp have a strict 'no support' policy for users who do not pay for their service.
In contrast, trial users will get all functionalities of a product, and know that they get this for a limited time. In that sense, they know what to expect and feel less entitled. As such, they require less service and support than freemium users.
3. Engaging in Side-Project Marketing
A third reason to go the free route is comes down to so-called 'side-project marketing'. The central idea of side-project marketing is that you offer product A for free, in order to get paying users for product B.
One great example of side-project marketing is Unplash. Originally, Unsplash was a website for free stock photos created by the founders of graphic design marketplace Crew.
The founders of Crew simply wanted more ways to attract attention to their product, and in order to do that, they built an entirely new product. The starting premise of Unsplash was simple: offer 10 new license-free stock photos every 10 days.
I like to use this example, because Unsplash has been very successful. After gaining some early traction, Unsplash grew incredibly fast, and Crew was acquired by Dribbble. Interestingly though, that means that it isn't a great example for side-project marketing. Why? Because rather than fulfilling its purpose of marketing the founders' main product Crew, it became a stand-alone product.
Perhaps a better example then, and on a much smaller scale, is what we do at Enter Network with our weekly Entrepreneur Sessions. Every week, we bring a variety of entrepreneurs together in a short check-in. We discuss what everyone is working on, and talk about potential problems or challenges people are facing. While it is great to bring entrepreneurs together in this way, it also proves to be a great marketing channel for our other products. We've gained several paying customers for our monthly support group and meetups by offering this service for free.
4. Getting More Customer Feedback
Another reason to go free is simply to get more customer feedback. Although the startup mantra is to 'monetize early', sometimes monetization is not an option.
Particularly if you have an unfinished product or MVP (minimum-viable product), you may want to offer it for free to get more customer feedback. In this situation, it is important that you make it as easy as possible for customers to offer that feedback. And ideally, there is a way for the product managers to directly contact the users and ask follow-up questions.
5. Acquiring Customer Data (or: The Consumer as the Product)
If you're not paying for the product, you are the product
This famous quote encompasses quite well the reason why we (as users) often get products for free without feeling any pressure to pay in the long run. Consider for instance our email inboxes (Gmail) or social media (Facebook). The reason why companies offer such products for free is to 'make the consumer the product'.
This can work in different ways, but usually this means that the customer's data is somehow monetized. A classic example is Facebook. On Facebook, users share a lot of information about themselves. Facebook uses this information to allow third-party advertisers to run laser-focused ads.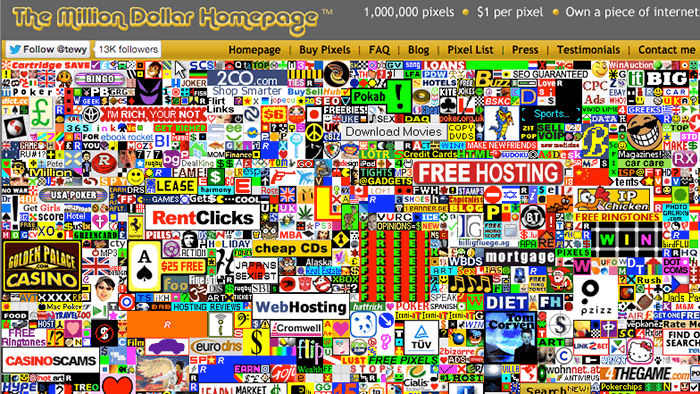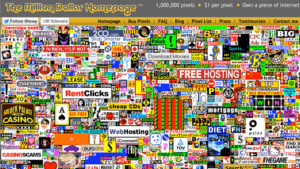 Ads on the Million Dollar Homepage
Although Facebook does not have a great track record concerning privacy, seeing the consumer as the product is not inherently bad. Even in such cases, you do actually provide value to users. Personally, despite its faults, I'm happy that Facebook exists. (note that I could care less about the million-dollar homepage, but that still made a million dollars!)
And if privacy is an issue, anonymization may be the solution. In some cases, a business can anonymize user data without losing its value to third-parties.
6. Offering a Free Service to Increase Customer Loyalty
Offering something for free can also improve (or keep) existing customer loyalty. Suppose you have developed a new functionality for your software or an entirely new product, which you intend to sell to new customers.
It may be a good idea to offer this new thing for free to current customers, and in this way provide a 'thank you' for their continued support. In return, you can expect users to be loyal to you and your product.
One example of this is 'grandfathering'. In this strategy, current customers can keep paying the current price for an improved product, and new customers pay the new price. In a sense, current customers simply get more functionalities for free. Grandfathering is often done in Software as a Service (SaaS). The reason is that with SaaS, you continuously get new customers while you still want to keep your old customers happy.
7. A Free Product Boosts Branding
Lastly, offering a product for free may simply be part of a wider marketing and branding strategy. As opposed to a side-marketing project, the free product serves to make users known with the entire brand and a range of products, rather than one particular product.
Look at larger companies like Google or Microsoft who offer a wide variety of free services. Consider Google Maps, Google Analytics, Google Mail, or alternatively Outlook, Skype, Office, etc. These companies use such products not only to get more paid users, but also as part of their wider marketing strategy.
The more often users will engage with a product by your brand, the more likely your brand comes to mind when they need to purchase something similar. Consider for instance free samples that are offered in supermarkets throughout the year. After receiving a free product, users will recall their positive interaction with that brand in the future. As a result, the brand can expect increased Christmas sales.
Questions to Answer when Offering a Free Product or Service
Any of these strategies and more can be a reason to offer a product or part of a product for free. However, it is important to consider a number of questions before actually going ahead and start acquiring (free) users. Specifically, I suggest to ask yourself these five questions:
Does it fit with your target group?
Can you model or estimate your conversion rate?
Will offering the product for free have a negative impact on paying users?
How much will it cost?
What does your free product mean for the perceived value of your product?
Does Offering a Free Product Fit with Your Target Group?
Whether or not you can offer your product (or service) for free massively depends on your target group. Is your target group used to getting something for free? Is it used to use a free product?
For enterprise software, a free product may not be the right way to go. Chances are that some users within your customer's company will start using it, while others won't. This is because for many, there is no necessity to use the product. This leads to fragmented use and most probably, not a sale for your company.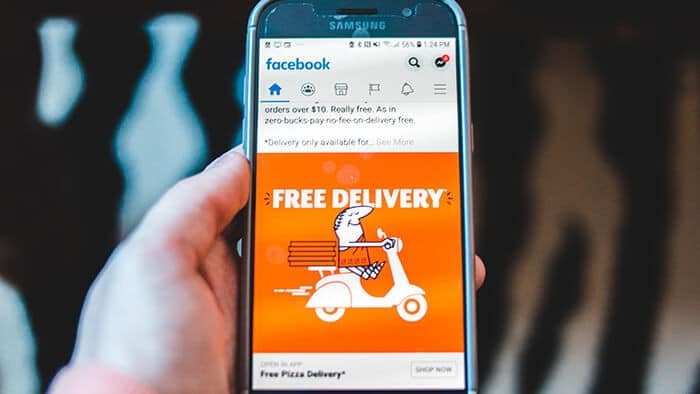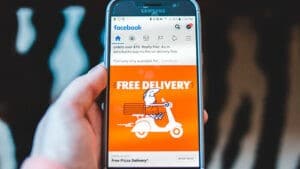 Free delivery on a Facebook app
In contrast, if you're developing a mobile app, offering your app for free may be the right decision. Users are not used to paying for applications, making it difficult to only offer a paid version and grow your customer base.
Whatever your product and whatever your target group, think about whether they fit with a 'free' model. If you're not sure, consider doing qualitative research among potential customers.
What is the Expected Conversion Rate from Free to Paid?
If the goal is to convert free users to paying users, this is an important question to answer. Your conversion rate may differ widely depending on your target group and product. Whatever it is, try to make an estimate beforehand so that you can calculate whether it makes business sense for you to offer something for free.
In case your conversion rate is low and it costs a lot to offer a free product, it may be better to stick with a regular business model.
What Does Free Mean for Paying Users?
Does offering something for free have any negative impact on the users that currently pay? In most cases, this is not an issue, but it is important to keep in mind how your current users view your company and products.
Simply put, don't make something for free that others have been paying for. However, if you do want to go this route, make sure that you offer those users something extra, so that they do not feel left out.
What Does a Free Product Cost?
Practically, you also need to consider what it costs to offer something for free. That sounds counterintuitive, but a product that is free for the user still costs money for its creator.
Evidently, what it will cost depends massively on what the product is. However, it is still important to think about this thoroughly, for two reasons.
First, there is the idea that with freemium pricing, you can offer a lower quality product. The reason behind this is simple. User expectations are low, considering you're offering something for free. In this sense, it may be beneficial to your bottom line to offer a free product. You need to offer less support and need to put in less development hours for free users than for those who pay.
So far so good. However, second, you can still run out of cash fast if the way you have set up your free product does require you to offer some sort of support or man hours. Suppose for instance that after launch, you get a massive number of free users but basically no paying users. And suppose that those free users do cost some money (if only because of the increased traffic on your website). In this scenario, you may run out of cash quickly, which is the last thing in the list you should plan for.
What is the Impact of 'Free' on the Perceived Value of Your Product?
The last question is also the most abstract. But the idea behind this question is that if you offer something for free, people tend to value it less.
If you take a very narrow approach of value, you would value a product at exactly nothing. After all, value is just the monetary amount we pay for something, right?
In this view, your product has zero value if being offered for free. Certainly, most people do not take such a narrow view, and appreciate and value a product even if they get it for free. However, generally people do tend to value things they have paid a (monetary or other) price for over free products. Specifically, when a good is expensive or even when it's just scarce, it gains value.
When offering a product for free, the product generally isn't scarce, nor does it have any monetary value. The result can be that potential users do not appreciate the product, resulting in little actual 'use' by free users. Little use of your product will result in you not meeting your strategic goals. Regardless of what these goals are (from getting more paying subscribers to additional brand recognition).
What Will Your Product's Price Be?
Considering these 7 reasons to offer your product or service for free, what will you do? What is the goal you're looking to achieve and what price will you give to your to-be-launched product?
If you decided to offer your product for free, first keep tracking your metrics. Keep weighing your costs against the benefits of offering something for free. In contrast, if you've decided against offering your product for free, you're in for a rough ride. Now, you have to start considering how you will actually price the product, and what your pricing strategy will be. First, take a look at a pricing strategy example. Then, consider what strategy (from competition-based pricing to value-pricing) is the right one to take, keeping in mind your product, your target group, and ultimately, your business. Good luck!
---